Новости » Новости » Kyzyl-Tuu aiyl okmotu of Aksy region of Jalal-Abad oblast became the first winner of the competition within the framework of the project "Development Pact II - Accountability tool in the hands of the local communities"
Kyzyl-Tuu aiyl okmotu of Aksy region of Jalal-Abad oblast became the first winner of the competition within the framework of the project "Development Pact II - Accountability tool in the hands of the local communities"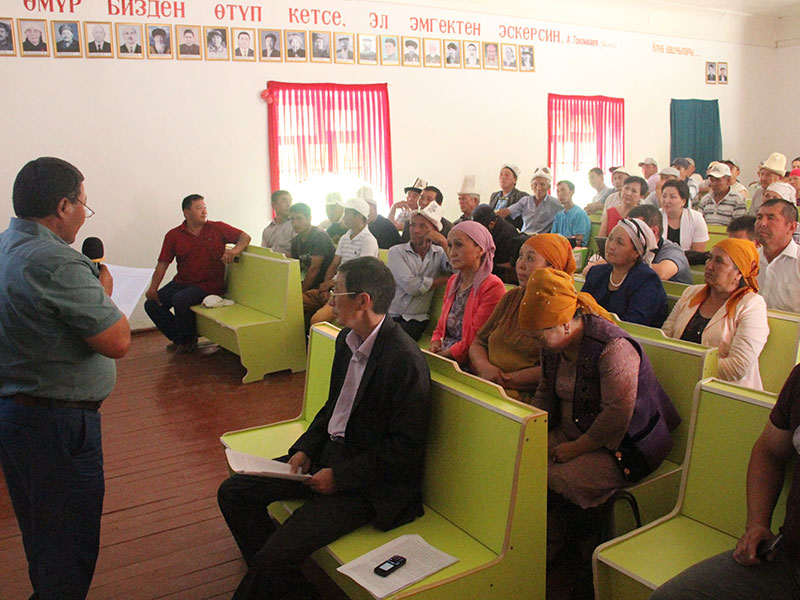 10.07.2017
The competition within the framework of the project "Development Pact II - Accountability tool in the hands of the local communities" is conducted by Transparency International Kyrgyzstan with the financial support of UNDEF.
As the part of the project Kyzyl-Tuu aiyl okmotu has demonstrated its capacity to work in partnership with the local community, to increase accountability and transparency of its activities and budget. As a result of coordinated work and cordial cooperation with the local community, Kyzyl-Tuu aiyl okmoty won a competition in which aiyl okmotu together with the local community entered into seven Development Pacts: " The provision of a potable water", "The mechanically cleaning of 2 km channel Zhyl-Bulak", "The construction of a new boiler house for the secondary school of the name of S. Aitieva", "The roof replacement for the secondary school Zhylgyn", "The road construction of about 1 km and 100 meters from the site of Alty-Kana of Zhol-Sai village to Sazyk-Sai, "The construction of a building for the installation of digital equipment in the village Arkyt", "The construction of a pedestrian bridge in the village of Arkyt".
Kyzyl-Tuu aiyl okmotu have also successfully used www.pact.kg website, where a personal page of aiyl okmotu was created. All sections of the aiyl okmotu page are full of information that could be made available to all people: about the locality, Development Pacts conclusions, news, the budget, the adopted existing laws and regulations, the district challenges/problems, the projects/donors/grants.
On July 5, 2017 Kyzyl-Tuu aiyl okmotu received an award as an equipment with high speed internet access for the successful use of the Development Pact tool.
Back to list
---
Comments: